Up to year 1980, the land were Polyxenia Isaak is today, was used for growing orange trees which grew up to 4 meters long. But because of the problem Cyprus had by not having suitable water for watering the trees, we decided to grow vegetables.The Polyxenia area was growing the best vegetables in Cyprus, because of the fact that the land is by the sea and the weather and earth are suitable for this purpose. Protaras is a place which attracts not only tourists but locals as well, and by having such beautifully land, we decided to do something to help the area developed. In 1993 as a first step we thought of building a nice restaurant which opened in 1994. It was named after our parents who owned the land, Polyxenia by our mom and Isaak by our dad Polyxenia Isaak. In 1999 we also build a nice beach bar and it pleases both tourists and locals. This is also a reason why we want to develop even more.
Polyxenia Isaak is located in an untouched seafront location in Protaras. Polyxenia Isaak restaurant, Polyxenia Isaak Pool Bar and Polyxenia Isaak Cafeteria sit amongst extensive grass lawns and beautiful gardens which run down to a fine sandy beach with crystal clear sea water. Polyxenia Isaak Apts are situated right on top of the Restaurant offering the best sea views whereas villa 23 and villa 24 are situated just behind the restaurant. Walk a little bit and you will find Villa Jenny. Villa Dafni and Villa Pelagos are about 100m away. 
Nearest Airport to Polyxenia Isaak is Larnaca Airport. It takes about 45 minutes to get from Larnaca Airport to Polyxenia Isaak. For instructions of how to get from Larnaca Airport to Polyxenia Isaak please click the link below: Directions from Larnaca Airport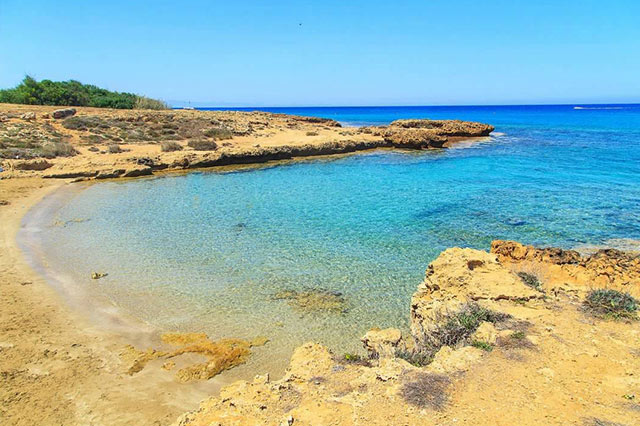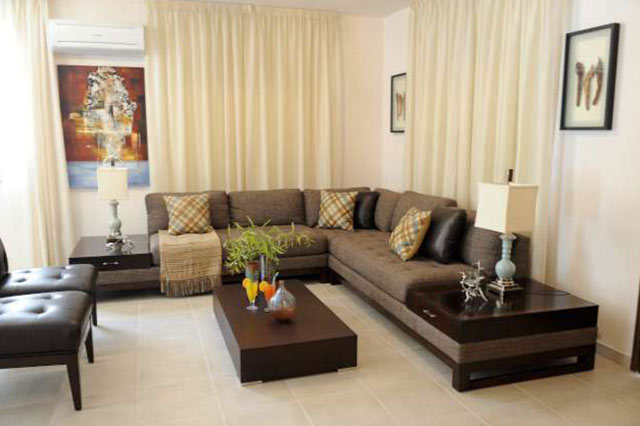 The vibrant tourist resort of Protaras is just a 45 minute drive from Larnaca International Airport. Situated on the beautiful south-eastern coast of the island where every year thousands of people succumb to the allure of the area's fine golden sands and clear blue waters.
Staying at the Polyxenia Isaak everything is within easy reach as the Apts/Villas are  just a few steps from the Polyxenia beach and a short stroll onto the main Protaras street where you can find countless shops, restaurants, bars, amusements, cafes.
If you still wish to venture beyond the hotel's amenities, we suggest you to explore the many places of interest within the area or further afield.
Protaras Beach: A stunning long stretch of fine sands and crystal clear waters. This is one the most popular beaches in Cyprus and the calm, warm waters are perfect for swimming, snorkeling and water sports.        Fig Tree Bay: The famous beach of Fig Tree Bay takes its name from a lone Fig tree which stands nearby overlooking the beach. Its tranquil shallow waters makes it easy for adventurous swimmers to reach the rocky island which sits 100 meters from the beach.                                                     Konnos Bay: The secluded beach of Konnos Bay rests at the bottom of a pine clad hill just north of Cape Greko. With golden sands and clear turquoise water, this beach is an excellent choice for sunbathers, boat trip swim stops and water sports.
All three beaches have been awarded the Blue Flag for the cleanliness and quality of the water conditions and are patrolled daily by lifeguards.
Ayios Elias: The Orthodox Church of Ayios Elias is positioned on the top of a natural rock formation and from there beautiful scenery is visible day and night.
Cape Greco: The nature reserve of Cape Greco has amazing views and is famous for its many sea caves. The nature trails can be explored by foot or bicycle and offer posted details of the local wildlife.
Protaras Coastal Path: The new coastal pathway of Protaras is proving to be a real asset with tavernas and lounge cafes dotted along the way. It's a true stroller's paradise, ideal for leisurely walks by the sea stretching 4 kilometers from Pernera to Fig tree Bay.
Traditional Old House: Located in the heart of Paralimni town centre this traditional house provides visitors with an insight to the life, customs and culture of a once traditional household.
Ayia Napa Medieval Monastery: Built around 1500 AD, this picturesque monastery was built around the cave where the icon of Virgin Mary of Napa was first found.
Thalassa Museum: The Museum, located in Ayia Napa, exhibits nautical and marine life organisms, shedding light on the significance of the sea in Cyprus history.
Troodos & Kykkos Monastery: The Troodos Mountain range reaches a height of nearly 2000m with magnificent views, wildlife and nature trails and genuine hospitality of the local villagers. While visiting the mountain region you must visit one of the richest monasteries in Cyprus-the Kykkos Monastery.
Aphrodite's Rock: The birthplace of 'Aphrodite' Goddess of love and Beauty is situated on the south west coast of the Island near to Paphos. Aphrodite Rock is one of the most famous attractions in Cyprus, which carries myth that if you swim around the Rock you will have good luck and fertility.
Tomb of the Kings: Is an ancient Greek burial site where tombs where magnificently carved out of solid rock. Although there is no proof of Kings being buried there it was the final resting place for as many as 100 Aristocrats and high officials living in Paphos dating back to the 3rd Century BC.